Yihao
From IACL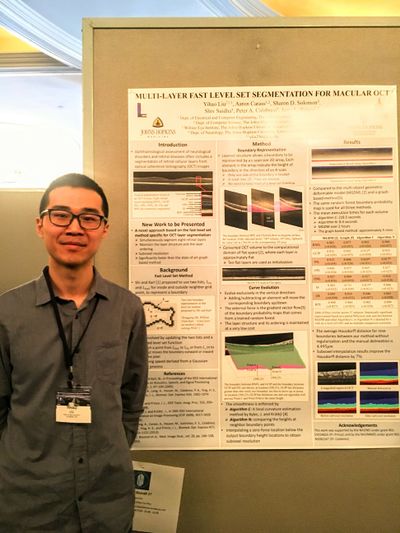 Yihao Liu
Ph.D. student in the Departement of Electrical and Computer Engineering
Clark Hall 204, Johns Hopkins University, 3400 N. Charles Street, Baltimore, MD 21218
Email: yliu236@jhu.edu
---
Biography
I am currently a first year Ph.D. student from the Department of Electrical and Computer Engineering at the Johns Hopkins University.
Starting from Summer 2017, I work in the Image Analysis and Communications Lab (IACL) and my advisor is Jerry Prince.
Research Interests
Retinal layer segmentation in Optical Coherence Tomography (OCT).
Image processing in Optical Coherence Tomography Angiography (OCT-A)
Education
Master of Science in Engineering, Electrical and Computer Engineering, Johns Hopkins University, MD, US, May 2018
Bachelor of Engineering, Electrical Engineering, Zhejiang University, Zhejiang, China, July 2016
Publications
Liu, Y., Carass, A., Solomon, S.D., Saidha, S., Calabresi, P.A. and Prince, J.L., 2018, April. Multi-layer fast level set segmentation for macular OCT. In Biomedical Imaging (ISBI 2018), 2018 IEEE 15th International Symposium on (pp. 1445-1448). IEEE.
Liu, Y., Gao, H., Zhuge, J. and Zhao, W., Crystal Instruments Corp, 2018. Vibration image acquisition and processing. U.S. Patent 9,922,428.
Liu, Y., Gao H., Zhuge J., Zhao J. (2017) Research of Under-Sampling Technique for Digital Image Correlation in Vibration Measurement. In: Harvie J., Baqersad J. (eds) Shock & Vibration, Aircraft/Aerospace, Energy Harvesting, Acoustics & Optics, Volume 9. Conference Proceedings of the Society for Experimental Mechanics Series. Springer, Cham