Yufan
From IACL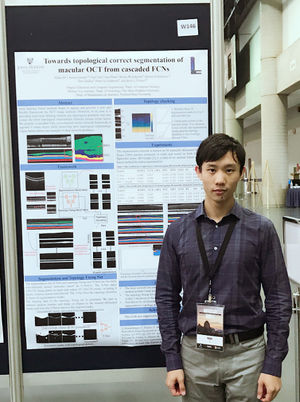 Yufan He
Ph.D. student in the Departement of Electrical and Computer Engineering
Clark Hall 204, Johns Hopkins University, 3400 N. Charles Street, Baltimore, MD 21218
Email: yhe35@jhu.edu
---
Biography
I'm a fifth year PhD student in the Image Analysis and Communications Lab (IACL) at Electrical and Computer Engineering, Johns Hopkins University. My advisor is Dr. Jerry L. Prince.
Research Interests
Medical image analysis (OCT&OCTA).
Bayesian & Deep learning (Segmentation, domain adaptation, neural architecture search)
Research Projects
Topology correct retinal layer segmentation from OCT images using deep learning
Longitudinal OCT layer segmentation using deep learnining
Single shot test time domain adaptation/ Domain adaptation without source domain on OCT images.
Parking space detection with mask-rcnn/ bird-view generation from monocular RGB image
Differentiable neural network topology search for medical image segmentation.
Education
Bachelor of Science, Electronic Information Science and Technology, Tsinghua University, Beijing, China, July 2016
Bachelor of Management, School of Economics and Management, Tsinghua University, Beijing, China, July 2016
Experiences
Intern, Nvidia, USA, 2020 summer
Intern, SenseTime Research, Beijing, China, 2018 summer
Teaching Assistant, Random signal analysis, Johns Hopkins University, 2017 fall
Research Assistant, Institute of High-Speed Signal Processing and Network Transmission, Tsinghua University, 2016
Research Assistant, Penn Image Computing and Science Lab, University of Pennsylvania, 2015 summer
Research Assistant, Institute of Computer Software, Tsinghua University, 2015,2016

Publications
My Google Scholar Link is [1]