Lianrui
Jump to navigation
Jump to search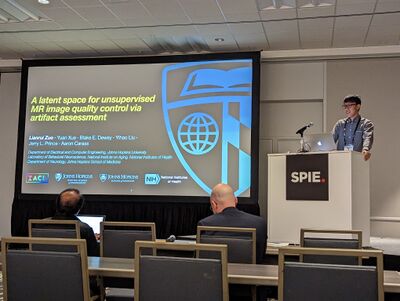 Lianrui Zuo
Image Analysis and Communications Lab, Johns Hopkins University
Laboratory of Behavioral Neuroscience, National Institute on Aging, National Institutes of Health
Email: lr_zuo@jhu.edu
Biography
I started my PhD journey in 2018 at the Image Analysis and Communications Lab (IACL), Johns Hopkins University. My advisor is Dr. Jerry Prince. I am also co-affiliated with the Laboratory of Behavioral Neuroscience, National Institute on Aging (NIA), under the supervision of Dr. Susan Resnick. I specialize in pioneering MRI harmonization techniques that facilitate our understanding of brain aging and treatment methods for multiple sclerosis (MS). I have published three book chapters and over 30 journal and conference articles. My works have been recognized internationally, including the Best MS Research Award (nomination) at CMSC 2023, Best Paper at DALI-MICCAI 2022, Best Poster at IPMI 2021, Best Paper at SPIE 2020, and Scientific Director Award at NIA Intramural Research Retreat 2020. Beyond my own research, I deeply value the power of knowledge sharing. I have served as a research mentor of the NSF REU program, a research mentor of the IACL, and a four time teaching assistant, helping over 200 students in their academic journey. I constantly seek and welcome collaborative opportunities that stimulate learning within the realm of medical imaging. My full CV (last update: August 23 2023).
Research Interests
Multi-contrast MRI synthesis and harmonization
Machine learning and deep learning
Education
Publications
Honors and Awards
Young Scientist Summit Training Award. America's Committee for Treatment and Research in Multiple Sclerosis (ACTRIMS) 2023.
(Finalist) Siebel Scholarship 2024. Siebel Scholar Foundation.
(Nomination) Best Platform in Multiple Sclerosis Research Award. (First author) Inconsistent MR acquisition in longitudinal volumetric analysis: impacts and solutions. Consortium of Multiple Sclerosis Centers (CMSC) Annual Meeting, 2023.
Best Paper Award. (First author) Disentangling A Single MR Modality. The 2nd Workshop on Data Augmentation, Labeling, and Imperfections (DALI 2022) in conjunction with MICCAI 2022.
Best Poster Award. (First author) Information-based Disentangled Representation Learning for Unsupervised MR Harmonization. The 27th International Conference on Information Processing in Medical Imaging (IPMI 2021).
Best Paper Award. (Second author) Variationalintensitycrosschannelencoderforunsupervised vessel segmentation on OCT angiography. In Medical Imaging: International Society for Optics and Photonics (SPIE), 2020.
Scientific Director Award. The 25th Annual National Institute on Aging Intramural Research Program Scientific Retreat, 2020.
(Finalist) Excellence in Teaching Award. Whiting School of Engineering, Johns Hopkins University. 2019.
Pre-doctoral Intramural Research Training Award. National Institutes of Health, 2019–2023.
Teaching and Mentoring
Research Mentor, National Science Foundation: Research Experiences for Undergraduates. Summer 2021.
Teaching Assistant, EN 520.414/520.614 Image Processing and Analysis I, Johns Hopkins University. Fall 2017, Fall 2018.
Teaching Assistant, EN 520.433/520.623 Medical Image Analysis, Johns Hopkins University. Spring 2018, Spring 2021.