<![if !vml]>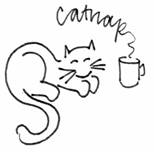 <![endif]><![if !vml]>
<![endif]>CATNAP : Screen Shots
(Coregistration, Adjustment, and Tensor-solving, a Nicely Automated Program)
[Home] [Back/Research] [Back/Catnap]
This End-User License Agreement ("EULA") is a legal agreement between you and the Image Analysis and Communications Laboratory at Johns Hopkins University for the software named CATNAP.
You should print out this license agreement and keep a copy for your records.
Installation, use, reproduction, display, modification and redistribution of this Software, with or without modification, in source and binary forms, are expressly forbidden.
Any exercise of rights under this license including sublicenses by you is subject to the following conditions:
Any academic report, publication, or other academic disclosure of results obtained with this Software will acknowledge this Software's use by an appropriate citation.
To the extent that patent claims licensable by the Image Analysis and Communication Laboratory or Johns Hopkins University are necessarily infringed by the use or sale of the Software, you are granted a non-exclusive, worldwide, royalty-free perpetual license under such patent claims, with the rights for you to make, use, sell, offer to sell, import and otherwise transfer the Software in source code and object code form and derivative works. This patent license shall apply to the combination of the Software with other software if, at the time the Software is added by you, such addition of the Software causes such combination to be covered by such patent claims. This patent license shall not apply to any other combinations which include the Software. No hardware per se is licensed hereunder. If you or any subsequent sub-licensee (a ``Recipient") institutes patent litigation against any entity (including a cross-claim or counterclaim in a lawsuit) alleging that the Software infringes such Recipient's patent(s), then such Recipient's rights granted (directly or indirectly) under the patent license above shall terminate as of the date such litigation is filed. All sublicenses to the Software which have been properly granted prior to termination shall survive any termination of said patent license, if not otherwise terminated pursuant to this section.
THIS SOFTWARE IS PROVIDED BY THE COPYRIGHT HOLDERS AND CONTRIBUTORS AND THE UNIVERSITY "AS IS" AND ANY EXPRESS OR IMPLIED WARRANTIES, INCLUDING, BUT NOT LIMITED TO, THE IMPLIED WARRANTIES OF MERCHANTABILITY, OF SATISFACTORY QUALITY, AND FITNESS FOR A PARTICULAR PURPOSE OR USE ARE DISCLAIMED. THE COPYRIGHT HOLDERS AND CONTRIBUTORS AND THE UNIVERSITY MAKE NO REPRESENTATION THAT THE SOFTWARE, MODIFICATIONS, ENHANCEMENTS OR DERIVATIVE WORKS THEREOF, WILL NOT INFRINGE ANY PATENT, COPYRIGHT, TRADEMARK, TRADE SECRET OR OTHER PROPRIETARY RIGHT.
LIMITATION OF LIABILITY THE COPYRIGHT HOLDERS AND CONTRIBUTORS AND ANY OTHER OFFICER, AGENT, OR EMPLOYEE OF THE UNIVERSITY SHALL HAVE NO LIABILITY TO LICENSEE OR OTHER PERSONS FOR DIRECT, INDIRECT, SPECIAL, INCIDENTAL, CONSEQUENTIAL, EXEMPLARY, OR PUNITIVE DAMAGES OF ANY CHARACTER INCLUDING, WITHOUT LIMITATION, PROCUREMENT OF SUBSTITUTE GOODS OR SERVICES, LOSS OF USE, DATA OR PROFITS, OR BUSINESS INTERRUPTION, HOWEVER CAUSED AND ON ANY THEORY OF CONTRACT, WARRANTY, TORT (INCLUDING NEGLIGENCE), PRODUCT LIABILITY OR OTHERWISE, ARISING IN ANY WAY OUT OF THE USE OF THIS SOFTWARE, EVEN IF ADVISED OF THE POSSIBILITY OF SUCH DAMAGES.
Last Updated: Tuesday May 27, 2008
© Copyright 2006, Bennett Landman. All rights reserved.
THIS PAGE HAS BEEN RETIRED. PLEASE SEE MY NEW WEBSITE.