<![if !vml]>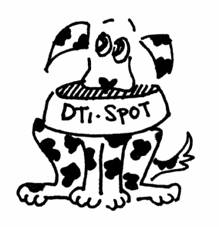 <![endif]>DTI-SPOT
(DTI Superposition Of Tracts)
DTI-SPOT (DTI Superposition Of Tracts) is a cross-platform user interface for superimposing DTIStudio filber tracking results on 3D PAR/REC and Analyze Volumes. Combined images are available in DICOM and Analyze (RGB) format and are readily compatible with general purpose DICOM visualization packages. We are working to make this functionality available within MIPAV and compatible with DICOM push/pull architecture.
Status: Internal Release
Platform: Matlab
Contact person: Bennett Landman
Mailing List/User Discussion Pages: <not established>
Download: 
Public Current Release:
Internal Release Only. Contact Bennett Landman.
Previous Public Releases:
Screen Shots:
<![if !vml]>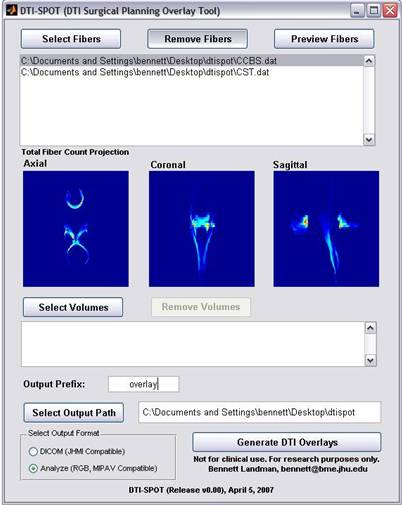 <![endif]><![if !vml]>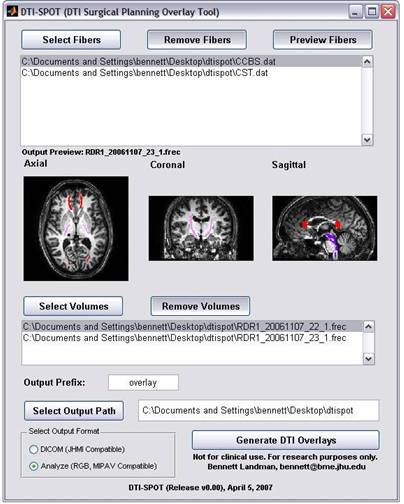 <![endif]>
Publications with/about DTI-SPOT:
Developers:
            Bennett Landman, Jonathan Farrell
            We appreciate comments, suggestions, bug reports or fixes, and integration of new features. Please contact Bennett Landman or Jonathan Farrell.
Last Updated: Tuesday May 27, 2008
© Copyright 2006, Bennett Landman. All rights reserved.
[an error occurred while processing this directive]